One Thousand One Papua New Guinean Nights
---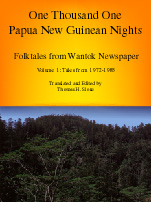 ---
Description · What Reviewers Have Said · Sample Folktales · References · Purchase
---
The book can be ordered from Masalai Press or from Amazon.com.
---
Wantok, the Pidgin English (Tok Pisin) newspaper of Papua New Guinea (PNG), has published a series of folk tales sent in by readers from around the country since 1972. I have collected and edited these folk tales, and have translated them into English through 1997. I have indexed them by author, village, original language, province, flora and fauna, and motif. There is also a list of folktale titles that I have translated into English.
Rather than index culture group, which is not well-standardized in PNG, the name of the local language used in the village from which each story originates is indexed. The names for the language index are primarily based on Dutton (1973), Laycock (1973), Wurm (1975), Wurm (1976), Wurm and Hattori (1983), and Z'graggen (1975). Generally, only distinct languages are indexed, not dialects. The current count of languages in the index is 247. This represents 35% of Papua New Guinea's total language count (about 700, according to Wurm, 1985). There are probably stories in the manuscripts from many culture groups that have not elsewhere had their folk tales published.
All of PNG's provinces are represented as well as one story each from the Torres Strait of Australia and Biak in Irian Jaya. Some provinces are better represented than others, particularly those in which Tok Pisin is the lingua franca.
A motif index (based on Thompson, 1993; Kirtley, 1955; Kirtley, 1971; Legman, 1968; Legman, 1975; and Hoffmann, 1973) is included.
A set of maps showing the known locations of villages is included. The village locations are based on the village gazetteer by Peterson et al. (1982).
An analysis of these folk tales, probably including folk tale data from other sources. The analysis would address the recent debate on the influence of language and proximity on cultural transmission is in progress (e.g. see Welsch et al., 1992; Moore and Romney, 1994; Roberts Jr., et al., 1995). [See also the New Guinea Research Program.]
---
Library Journal (February 15, 2002): "Both extraordinary and overwhelming", "monumental", "exemplary indexes"
Geoff P. Smith, author of Growing Up with Tok Pisin (2002): "Monumental"
Rundbrief (February 2002): "Zunächst einmal ist die riesige Arbeitsleistung bemerkenswert." [First of all this enormous work is remarkable.]
Swag of Yarns: Australia's National Storytelling Magazine (Winter 2002): "A parcel of gold" "This remarkable collection of ancestor stories from Papua New Guinea's oral tradition is for serious collectors and lovers of oral stories-gold to the storyteller." "Amazing"
---
Below are four sample folktales in the original Tok Pisin:

and my translations into English:
---
I have described my technique for determining the languages associated with PNG villages here. Despite my substantial effort at this, there are still villages that I have been unable to precisely locate. These are located here. If you know where any of these are, please contact me.
---
I have been unable to locate issue number 1138 from 1996 of Wantok. Please please let me know if you can send me the ancestor story from this issue.
---
---
See also: An annotated bibliography of Papua New Guinean folklore
---
---
---
---
---
---
This site has received an award by The Creolist Archives
---
For information on my work at the University of California, Berkeley, see: The Carcinogenic Potency Project
---
You are visitor number

to this page.
Return to Thomas H. Slone's home page.
© 2001 by Thomas H. Slone.
Last modified September 24, 2002.